Since we opened our doors in 1965, Barron's Rental Center has enjoyed steady growth and success as well as the involvement of the second generation of the Barron family.
Barron's Rental Center was founded in 1965 by Charles Barron, Sr. who had been chief accountant at General Time. Charles Sr. wanted to pursue his dream of running his own business.
Barron started his enterprise as an A to Z Rental on Baxter Street with one full-time employee. Customers were primarily home owners and do-it-yourselfers. In 1969, Barron's dropped his contract with A to Z and changed the name of his business to Barron's Rental Center.
Barron's continued to grow and change through the years. In 1982, Charlie Barron, Jr., who had worked at the store since he was a young boy, came into the business as a full-time employee. It was his dream to add full-service party and event rentals in order to meet the growing demands of the Northeast Georgia area. Another change occurred in 1988 when Charlie Barron, Jr. bought the company. Charlie graduated from Clarke Central High School in 1978 and then graduated with a degree in Business Administration from The University of Georgia's Terry College of Business in 1982s.
Barron's Rental Center also has developed a much more diverse clientele, including contractors, industrial interests, caterers and event planners. Charlie Barron, Jr. attributes the company's growth to their ability to keep up with technology by offering customers the latest trends in rental services.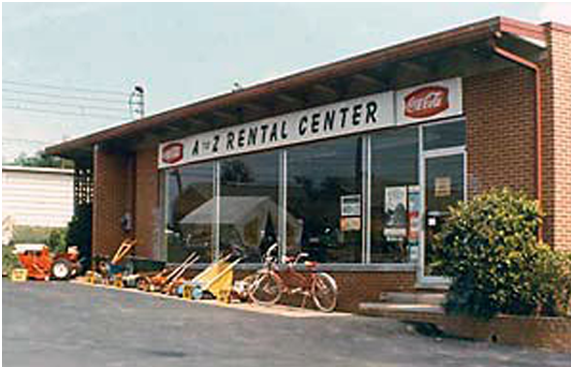 Barron's Rental Center is now located on Hawthorne Avenue, employs 15 people and over the years has expanded its present location several times. In that time, Charlie Barron has doubled the size of his showroom and added warehouse room for party equipment. In 2009, Barron's added an in-house laundry to provide care for the specialty linens, added in early 2010. To store and maintain the many tents for which Barron's is known, a large warehouse was built in 2009 behind the Hawthorne Avenue showroom. Providing well-cared for equipment with good service continues to be Barron's Rental Center's goal for serving the Athens area. In 2021, Charlie passed on the keys to new owner Keith Roberson and Business Partner. They are excited to carry on the Barron's name and history of great service for many more years!