A signature cocktail is a fun and unique way to add a personal touch to your event, and the glassware that you put it in can make a difference in the overall look of your bar.
These cocktails and different types of glassware can be a certain color to fit a scheme, use ingredients from your hometown, or incorporate a detail that is special to you.  Check out these recipes for a fun signature cocktail, and our recommendation on which glass to present these in.  A perfect cocktail glass will take your signature drink to the next level!
Let's say you are bride from Georgia, and your partner grew up in Kentucky.  What would be more perfect than a
Bourbon-Peach Cocktail
??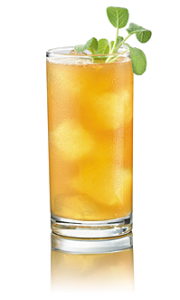 4 tablespoons bourbon

1.5 tablespoons fresh lemon juice

1.5 tablespoons simple syrup

1 tablespoon peach schnapps

2 tablespoons club soda

3-4 dashes bitters (optional)

Garnish with a peach slice, a lemon slice, and a fresh mint sprig
Combine first 4 ingredients in a cocktail shaker; fill with ice.  Cover with lid, and shake vigorously until thoroughly chilled.  Strain bourbon mixture into a
10 oz HIGH BALL GLASS
filled with ice; top with club soda, and if desired, bitters.






For a fun pop of color to your event, maybe think about doing a signature cocktail that is in the same color scheme as your decor.   A Purple Haze Cocktail
is a beautiful purple/fuchsia drink that will add add a really fun dimension of color to your event.  Also, you can keep your bar costs low with this very simple recipe!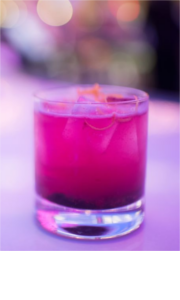 1.5 ounces vodka

.5 ounce black raspberry liqueur

2 ounces cranberry juice
Pour vodka and black raspberry liqueur into a cocktail shaker with ice and s
hake well. 
Strain into an
OLD-FASHIONED GLASS
filled with fresh ice. 
Top with cranberry juice. 
Garnish with lemon peel.
Thaw out during the winter months with this Boozy Hot Chocolate

cocktail!  We love a winter wedding.  It's a great time to have a bonfire, get cozy with friends and family, and let this cocoa warm you up.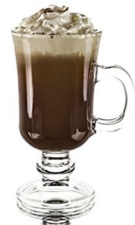 2 oz. finely chopped semisweet chocolate

6 oz. hot milk

1.5 oz Kahlua, Baileys, Rumple Minze, or your favorite bourbon
Put the chopped chocolate in a
GLASS IRISH COFFEE MUG
.  
Pour hot milk into mug and let stand for 2 minutes, then stir with spoon until smooth. 
Pour in spirit of your choice and stir. 
Garnish with mini-marshmallows, whipped cream, chocolate shavings.