Need help figuring out which table cloth to rent?  We got you covered!
Check out the table below to find the linen size that matches with your table.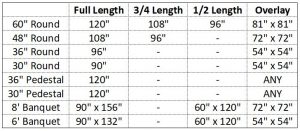 30" and 36" pedestal tables can also use a 132" cloth with a chair tie around the middle to tie up the extra.